Trinidad & Tobago
Briefing about the formation
It's a fact, 4 practicians were formed in Trinidad and Tobago ! This time again, a child was the start of this all !
Everything started by the reception of an e-mail from a mother (Simone Clark), in which she asked me if I could come to treat her son Matthias, who suffered severely from asthma. As usual, I answered her that it was possible, but that she had to organise this as I already did like the first formation in Mexico.This meant that I didn't want to come only to take care of her child, but also that I wanted to form some practicians, so that they could use my method.
Well understood; none of both parties had the money to organise this trip. Moreover, for me it was a very hard experience since I had to travel with a wheelchair because of an accident with my lumbar spine which didn't allow me to stand nor walk for longer than 10 minutes     ( look at the picture ) ;  two years that I couldn't leave the house !
In order to search the money to pay the airplane tickets, Simone and Roger (the husband of Simone) and even their family and friends, organised a party to sell some cakes (whatever idea was good to gain some money). 
The trip was o.k., even when travelling in a wheelchair, everybody was very attentive for me so I didn't have to worry about anything, which made that I could arrive in a very good condition without a big fatigue.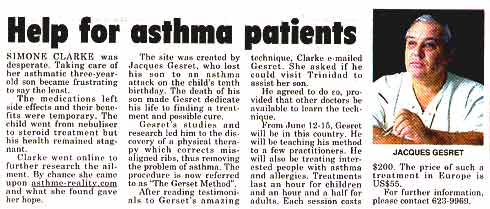 At Trinidad and Tobago, the information about the formation was the subject of two articles in the  local press, one was a full page about asthma, another about Simone and my arrival.
The formation was given during four days and I was surprised about the high motivation of the practicians and their superb organisation. They constructed four therapy tables from wood, in conformity with my design, and a large well ventilated place to work in (because of the heat). 
During the first three days they learned the specific movements of my method with a remarkable ease (in fact, I was only standing a few minutes to show them the techniques, the rest I had to remain seated).
| | |
| --- | --- |
| Joy while learning | Ian |
| Simone | Jacqueline |
The fourth day, they were able to work on their own and they showed their capacities on a very easy way while treating four patients at the same time during all the day (about forty patients in total). It was perfect !
My biggest surprise was the presentation of nearly all false asthmatics (pharyngeal spasm) and no one could be found as being real asthmatic ?
Another surprise, a lot of patients which we have treaten, gave us some money so that Simone could cover all the costs for the realisation of the formation.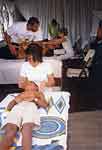 Working area
It is a very good team that I have left over there: they decided to stay together and work as a team and not all separated, in order to get the opportunity to get the best conditions for their patients.
The group.
From left to right :
- Alan (translator)
- Joy, Ian, me, Jacqueline
- Arnold (translator)
Simone
My Big Brother
I  weight 104 Kg,
it  gives you an idea of  proportions ;o )
| | |
| --- | --- |
| | |
| Mattias at the departure in Trinidad | Simone and Mattias |
Thank you: 
To Simone and Roger Clark who organised this "adventure" , to the mother of Simone and the parents of Roger, who were taking care about everything during the formation (patients, telephone, meals, cold drinks, displacements by car, etc...), to Arnold A.K. McLetchie, Alan Donawa and "Francis" who took the simultaneous translations for their account during five days.