The history of Téo, 4 years and a half
Téo was born on June 28th, 2002 in Bordeaux, and weighted 3 K 150 G. He had a normal birth in spite of the problems from his mom during a preceding childbirth. Seemingly, the childbirth occurred well (under epidural), even if his mom had foreseen that she had a narrow pelvis. The childbirth was started 2 weeks before term.
A dry cough with unstoppable attacks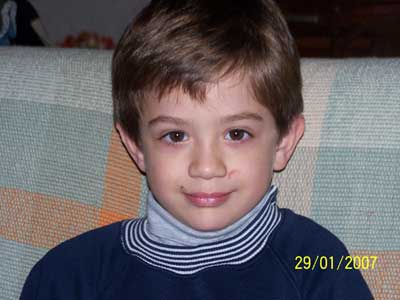 Téo started, at the age of 15 months, to make repetitive colds, systematically associated with ceaseless coughing which couldn't even be stopped by any medicine (nor even cortisone….). A dry cough with ceaseless attacks (sometimes like a "song of the cock", of a laryngitis type) which changed, in a few days, in a loose cough.    
During 3 years, we have consulted an enormous quantity of specialized doctors (allergologists, pneumologists, ORL, ...), 6 months of regular sessions with a psychiatrist because certain medications were stopped while saying that the cough was "psychosomatic" !!!  (cfr. file at the end of the message). An also high quantity of examinations was practiced on Téo (4 complete assessments of tests to detect a possible allergy: all negative, several screenings of a possible asthma: negative, 2 screenings for mucoviscidosis: negative, complete blood assessments never showing any anomaly, several radios of the lungs: perfect, an examination named "TOGD" to detect a possible gastro-esophageal reflux: negative….) and one forgets certainly some… without speaking about the medical regulations (footnote) all managed on Téo and all ineffective…
A big number of doctors told us not to understand the case and one time we heard a comment like: "
Put earplugs to be able to sleep and not to hear the cough, and wait until it calms itself within a few years"!!!
The most crazy thing in this history is that as far as our memory goes, we didn't have any morning in which we did not have to give medicaments. In October 2005, Téo was operated on his amygdales by an ORL specialist. Result : catastrophe, and even worse than at the beginning because Téo got a constant cold (but it was very beneficial for the wallet of the surgeon…). Please forgive us our cynicism
We didn't know how to get out of this infernal spiral anymore
the more, the frequency of the crises, which occurred at the beginning of approximately one per month (with a variable duration from 2 to 5 days) increased to a  frequency of a crisis every 8/10 days. Imagine the hell: Téo coughed all night, all day, was exhausted of course and more weakened and catched, because of this, all the viruses and ambient microbes. We were also exhausted since we could not sleep when Téo was "in crisis".
Then, in December 2006, we felt on a forum on the web with the subject : « All the mothers who have coughing children… », and decided to explain briefly our little history. A lady answered and advised us to visit the site of Jacques GESRET at
http://www.asthma-reality.com
, telling that her 3 daughters were treated by this method
At the beginning we were a little bit skeptic
More exactly we had some difficulties in believing this, because nobody at that moment was capable to treat nor to cure Téo. We thought it over and consulted the website in which we found a lot of interesting testimonies about this method with brilliant results.
At the end of December we posted a message on the forum and got a quick reply from Jacques in which he told us that this case was very common and well known by any therapists of his method. Living at the Gironde he  advised us to visit Jean Bernard Mirtin who lives at Les Landes.
Appointment was taken for the 16th of January.
Awaiting for this date, we decided to leave to the mountains at an altitude of 1400 m in order to try to calm down Téo, who still was at full crisis. The 31st of December, in the evening (New years eve), the state of Téo got worse with amplifying attacks of coughing so that we were forced to leave the mountains again back home… The night of 31st of December – 1st of January we recorded  the coughing attacks so that we could let them hear to anybody who was in doubt by saying « but every child coughs, every child gets sick, why should you worry ? »                                                                     
Sure, but there is « coughing » and « coughing » and the one from Téo was very worrying. As a prove, as soon as we got back we posted a private message to Jacques GESRET, telling him what happened in the mountains and proposed him to send the recordings as an MP3 file so that he could listen at this unpleasant cough. Click to hear it.

Jacques contacts us immediately from Paraguay because he is very worried 
The cough of Téo is the so called famous "pharyngeal spasm" very notorious, in the majority of the cases requiring a respiratory assistance in a medical urgency unit. He specifies that the appointment, taken on January the 16th is much too late and that we need to see a therapist with urge.
The practitioner in Landes is absent to a congress, so Jacques advises us to contact Frédéric VANPOULLE, who accepts, without any hesitation, to see us the 4th of January 2007.
Awaiting for this date we continue our exchanges with Jacques, who gives us some advises about what to do in case of a crisis.
Frédéric examines Téo with caution and works on his little body during about one hour, thus starting the first restructuration. Decontracting massage and repositioning of the first cervical. We talk and exchange about this case with Frédéric (about the severe  coughing attacks and the recurring colds he always got). Frédéric confirms that an important compression of the first cervical irritates the nerve root of the « Glossopharyngeal nerve » , being at the origin of this unstoppable coughing attacks.
A next treatment for « stabilization » is made at the 11th of January. We buy a cervical collar for Téo, an advice from Jacques, so that his cervicals will stay in its place while travelling back. He also advises us to let him wear this collar every night during about one month.  
We went back to the Girondes :
3h30 on the road on which Téo didn't cough one time !
A miracle or was it by coincidence ???
It is too soon to know !
During the next days, Téo gets better and better
The nose is clear (Jacques previously explained in one of his numerous answers that a bad position of the first cervical vertebra also works on a parasympathetic fiber which is a part of a ganglion at the base of the spinal cord, the lacrymo-muco-nasal ganglion which, according to its name, works on the secretions of the nose and the eyes. Deficit of the influx coming from this ganglion makes the nose getting inflamed and obstructed with a lot of secretions while there is no sign of a cold anyway).   
We don't have any coughing attack at night (finally Téo and his parents can sleep and recuperate), besides a small wet cough for which Jacques advises us to treat this with homeopathic grains so that the lungs can be freed. 
As foreseen we returned at the 11th of January for the second treatment of « stabilization ».     Téo was stable, nothing has moved…… his first cervical which was fixed the 4th of January stayed on its place so Frédéric could work on a few other parts of the body. He contacted Jacques in Paraguay who explained that we didn't need a third session, only a revision in one month, the 10h of February .
Since the 4th of January until now, Téo only got a big cold (treated by easy flushing of the nose and some homeopathic grains), but NOT ANY COUGH ATTACK, which had always been the case before the treatments. 
So, until this day, Téo is in  a great shape. As his parents who suffered with him for three years, we have never seen a son like he is now : a good health, he breathes the joy of life, he is never annoyed by this awful cough which attacked him every day and night, his entire life.              
We, the parents, Christophe and Marie-Laure, can never say thanks enough to Jacques for his fast intervention, and to Frédéric for his irreproachable work which permitted Téo to get rid of this terrible cough.
The only thing we have to do now is to manage the stress which has weakened us during this three years.
Important problems of transpiration
We have mentioned at Jacques and Frédéric that Téo also presented big troubles of excessive transpiration (head and thorax) as soon as he runs, plays with the ball, gets upset at any time.
Jacques and Frédéric told us that the « transpiration system » is linked with the parasympathetic nervous system, and that « a compression provoked by a bad positioned first cervical induces a deficit of parasympathetic information, the inhibitors of the secretions.  
Because of this, there exists nasal, lacrymal, pulmonal hyper secretions, and  sweating. This problem will be resolved after  the repositioning of the first cervical ».
Conclusion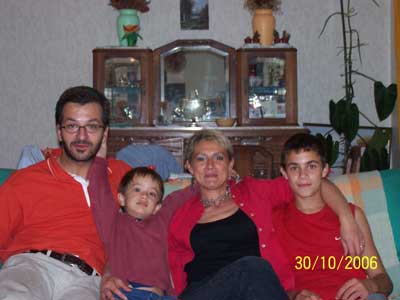 This weekend, after have let him running, playing football, basketball, playing in the garden we determined that Téo didn't sweat anymore.... which wasn't immediately like the disappearance of the cough but after a while things got resolved as well.
So this was another good news from Téo who feels fantastic right now !
Jacques, you confessed to us that you kept Téo in your heart every time you were afraid to hear and hear again the terrible cough, and we don't have any doubts about that !!!
But after all, even if the cough of our child becomes "famous", while being audible on your site, we will not blame you for this, quite the contrary, because on one hand, our small Téo is relieved and, on the other hand, we are certain that it will allow all the parents who suffer from the same thing and who don't know what to do anymore, can find a solution for the agony of their child !!!
…. So, this was our testimony, we wish you all good luck, have faith in Jacques, have faith in his therapists, your life and that of your children will only get better.
Jacques et Frédéric encore MERCI
Jacques and Frédéric THANKS again
I also would like to thank « Christine » (she knows who she is), who is at the origin of the communication on the site of the GESRET method, without this we wouldn't  progress.
The biggest victory for us in this story, besides the fact that Téo got out of this hell, is that our testimony can serve (which it already does right now) other parents who are as desperate as we were at that time
Best greetings,
Marie-Laure, Christophe et Téo (our e-mail in case you would like to contact us, in french...)
Note :
At this time :
- 10 general doctors
- 3 podiatrists
- 4 pneumologists
- 4 allergologists
- 3 homeopaths
- 4 osteopaths
- 4 physiotherapists
- 2 ORL specialists
- 1 healer
- 3 hypnotizers
- 1 psychologist
- 1 kinesiologist
- 1 surgery of the amygdales
- 2 X-rays of the lungs
- 2 complete blood tests
- 2 tests for mucoviscidosis
- 1 test TOGD
- 4 visits at the emergency unit (one with the truck of the fire fighters because of a very low blood saturation)
And for us, this list is not exhaustive !!!
Most important medicaments used, and seeming not helpful at all :
Reflux : Pérydis, Nopral, Motilium
Different Antibiotics
Nebulizers / Inhalation chambers
Ventoline, Flixotide, Pulmicort, Sérétide …. (making the cough crisis even worse)
Célestène, Solupred
All sorts of anti cough syrups
All sorts of anti cough suppositories
Syrups with antihistamines
Téo has not taken any medicament since the 4th of January (besides a few grains of homeopathy for the treatment of a cold which disappeared as quick as it started, and : without even one cough !!!)