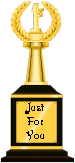 28/07/1999
Thank You for your nomination to the Just for You Classy & Cool site awards.
Our visit to your site proved to be an exciting adventure !!
Your html usage, quality, and artistic talents have scored you high.
After careful consideration, We are pleased to present the Cool Site award to you.
Congratulations and keep up the good work !!!
Please take just one moment to help me.
Wonderful site !!
Tim, Mindy &
The Just for You Staff