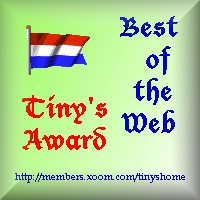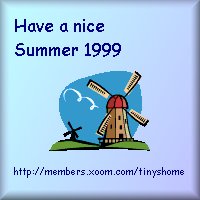 22/07/1999
Hello !
Congratulations! I visited your page and I really liked it! You have done a great job and I'm happy to give you my award.
Greetings from Holland,
Tiny.
,
,
If you are interested to see a Primary School in Holland, you can take a look at deglashorst It's the school, where I'm working with children of "groep 6" (9/10 years old)
If you go to the first page you see:" De groepsfoto's zijn klaar " If you click on that you can go to "groep 6"
,
Thank you Tiny